Description
MYLE V5 META DEVICE POD SYSTEM
Buy New MYLE V5 META DEVICE POD SYSTEM at Yen Vape. This Myle V5 Meta device is the latest member of the Myle family, carefully designed to deliver a premium vaping experience. Prepare yourself for the ultimate vaping journey with the V5 Pod Kit! This groundbreaking device presents a sleek and stylish design, a powerful battery, and a long-lasting pod cartridge. Enjoy the comfort of its user-friendly draw-activated system, adjustable wattage settings, and LED indicator light. With V5 Pod Kit you can edit your vaping experience and can extract the perfect hit every time.
Moreover, this cutting-edge New Myle v5 Meta Pod Kit is now available in the UAE. This innovative device is designed to enhance your vaping experience with its advanced features. The LCD digital screen provides clear visibility of important information, while the puff count tracker allows you to monitor and manage your usage effectively. With a powerful Rechargeable 380mAh battery and a convenient life indicator, The magnetic attachment ensures a secure connection, while the vibration upon connection feature provides tactile feedback for added assurance.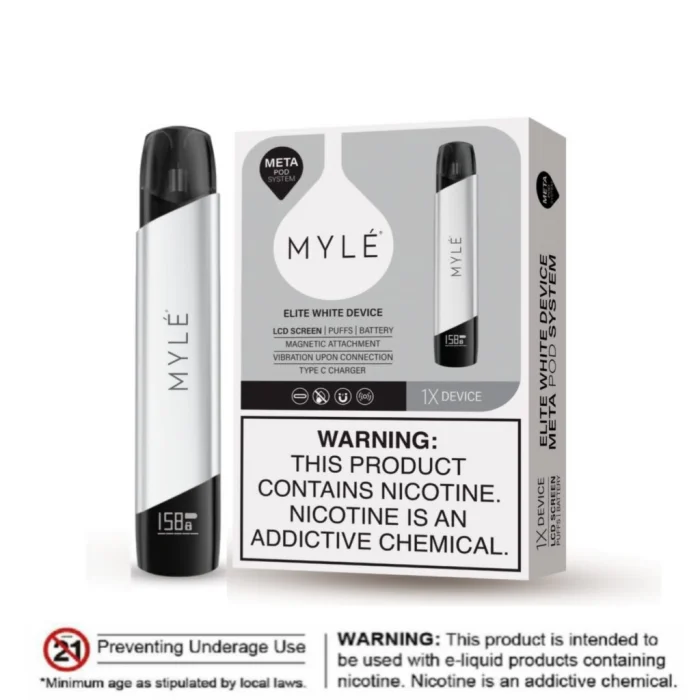 New V5 Meta Device Features :
The device is made with an LCD digital screen, providing clear and easy-to-read information at a glance.
Keep track of your vaping habits with the built-in puffs count tracker, allowing you to monitor your usage.
Enjoy uninterrupted vaping sessions with the powerful 380mAh battery, which comes with a handy life meter to let you know how much juice is left.
You can use the magnetic connection system to quickly attach and detach pods, ensuring a secure fit and simple use.
After connecting the device, it gently vibrates to notify that it's securely attached. This means you can feel confident that the connection is stable and reliable.
With the Type C charger, you can enjoy the advantage of fast and efficient charging for the device. You can recharge the device quickly, so you don't have to wait too long to use it again.
Because the V5 Meta Device is rechargeable, you can use it over and over again without creating as much waste.
What Comes With the New Myle v5 Device Kits?
The Myle V5 kit includes one Myle vaping device and one USB charging base. The kits do not include Myle pods, so we recommend adding at least one box of pods to your cart before checking out. Each Myle pod lasts through about one full day of vaping.
Do Myle V5 Meta Pods Contain Nicotine?
Yes. Each pre-filled Myle V5 pod contains e-liquid with a nicotine concentration of 5%. Myle's smooth and satisfying nicotine salt formulation delivers the assertive throat hit that you want when you're making your way through the sometimes-difficult transition from smoking to vaping.
Available Colors of Myle V5:
Elite White
Navy Blue
Racing Green
Jet Black
The new Myle V5 Meta Device is the latest addition to the Myle Vape product line. While it is not yet available in the UAE market at Yen Vape Dubai, Myle Vape is excited to offer this brand-new device that promises to elevate your vaping experience to new heights.
The Myle V5 Meta Pod System kit is the latest addition to the Myle family, designed to provide a superior vaping experience. This state-of-the-art pod system features a range of advanced features that make it stand out from other vaping devices on the market.
Question: Is any Myle v5 Meta Pod System Shop In Dubai?
Answer. Yes, Yen Vap Dubai is the Best shop for Myle v5 Meta Pod System near you.
Best Buy New Myle Device buy in Dubai, UAE, Emirate Mall, Dubai Mall, Marina Mall, Downtown, City Walk, Marina, Jumeirah, Palm Jumeirah, Bluewaters, AL Barsha.