Description
VELO BERRY FROST STRONG 10MG
Tobacco-free, all-white, and discreet nicopods from Velo with strong kicks and a frosty mint-berry flavor!"
Introducing the VELO BERRY FROST STRONG 10MG at Yen Vape Dubai, your key to an invigorating and smoke-free experience. Elevate your moments with this exceptional product that redefines what it means to enjoy the refreshing allure of berry frost.
It's An all-white snus from Velo and the manufacturer BAT designed to take your experience to strong strength! Its tobacco-free and slim nicotine pouches deliver strong nicotine kicks (10mg/portion) together with a cool mint flavor topped with sweet and fruity tones of berries.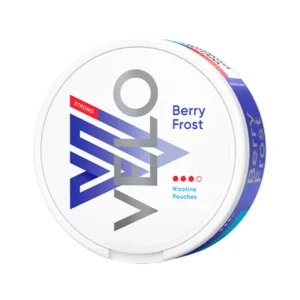 Velo Berry frost Specifications:
Brand: VELO, LYFT
Product Type: Nicopod
Format: Slim
Flavour: Mint & Berry
Strength: Strong
Nicotine: 10mg
Pouches Per Can:20
Weight Per Pouch (Gram):0,75
Content Per Can (Gram):15
Experience the crisp and vibrant notes of luscious berries, harmoniously intertwined with a refreshing frosty twist, right at your fingertips. Say goodbye to cumbersome paraphernalia and hello to an effortlessly portable solution. Velo's innovative pouch design ensures a mess-free and discreet experience, making it perfect for those on the move.This 10mg Velo Nicotine Pouches can offers the perfect combination of cooling menthol and juicy raspberry, blueberry, and blackberry notes.
No longer will you have to rely on traditional cigarettes, with their harmful smoke and lingering odor. Velo Berry Frost Strong is smoke-free and odorless, making it a game-changer for your social and personal life.This flavor Made in Pakistan under the authority of British American Tobacco.