Description
VELO TROPIC BREEZE SLIM 6MG
Taste of the tropical fruits mandarin, passion fruit, and mango in normal strength. origin from Sweden
Introducing the VELO TROPIC BREEZE SLIM 6MG – your passport to a refreshing and satisfying experience, tailored for those in Dubai and the UAE. taste of the tropical fruits mandarin, passion fruit, and mango in normal strength. origin from Sweden" Designed for those who crave a smoke-free alternative that's both convenient and flavorful while incorporating the local essence.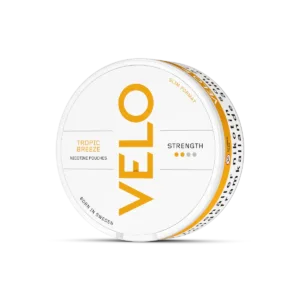 Brand: Velo Nicotine Pouches
Type: Snus
Format: Slim
Taste: Mandarin, Passion fruit & Mango
Nicotine level: 6mg/g
Portions/can: 20pcs
Content: 14g
Strength: Regular
Origin: Sweden
Manufacturer: British American Tobacco Ltd
Buy Velo Nicotine Pouch In UAE
With VELO TROPIC BREEZE, you can wave goodbye to traditional cigarettes and welcome a world of benefits while embracing the Dubai and UAE vibe:
Refreshing Tropical Flavors: Immerse yourself in a tropical paradise with each puff, echoing the lush surroundings of Dubai and the UAE. The exotic blend of flavors will transport you to sun-kissed beaches and swaying palm trees, reminiscent of the region's charm, all while enjoying a clean and smoke-free sensation.
Compact and Discreet: These slim, sleek nicotine pouches are the epitome of discretion, fitting seamlessly into the fast-paced lifestyle of Dubai and the UAE. Slip one into your pocket or bag and enjoy nicotine satisfaction without the need for smoke breaks. Perfect for on-the-go individuals in the bustling city.
6MG of Pure Nicotine: VELO TROPIC BREEZE offers a perfectly balanced 6MG nicotine content, aligning with the preference of many in Dubai. It's enough to quench your cravings but without the harshness of traditional cigarettes. Say goodbye to the smoke, but not the nicotine, just as the city never sleeps.
Stain-Free Teeth: No more worrying about yellowing teeth or unpleasant breath, ensuring that you maintain your dazzling smile amidst the business meetings and social gatherings in Dubai. With VELO, there's no smoke, no ash, and no staining.
Freedom to Enjoy Anytime, Anywhere: Embrace the freedom to enjoy nicotine wherever you desire, reflecting the cosmopolitan nature of UAE. No more designated smoking areas or second-hand smoke concerns. VELO TROPIC BREEZE is your passport to freedom in the heart of the desert.
Quick and Convenient: No need to fumble with lighters or worry about ashtrays. Just pop a pouch in your mouth, and you're good to go, keeping up with the fast-paced lifestyle in  the UAE. It's that simple.
Ready to make the switch and savor the taste of the tropics while enjoying a satisfying nicotine experience in the vibrant and cosmopolitan environment of Dubai and the UAE? Choose VELO TROPIC BREEZE today and take the first step towards a smoke-free, hassle-free lifestyle, with a touch of the Middle East. Elevate your satisfaction and embrace the freedom to indulge anywhere, anytime. Don't wait – Buy velo pouch in UAE from Yenvape.net.