Description
VELO MINT SLIM 6MG The Evolution from LYFT Mint
VELO Mint with rich sweetness from peppermint combined with the cooling freshness of menthol.
Discover the allure of VELO MINT SLIM 6MG in Dubai at Yen Vape, a sensation that combines minty freshness with a satisfying nicotine hit. Explore the vibrant city while savoring the essence of LYFT MINT 2Dots.
Embark on a journey of flavor and satisfaction as we delve into the world of VELO MINT SLIM FORMAT in Dubai. This article is your guide to understanding the nuances of this popular product, ensuring an informed and enjoyable experience.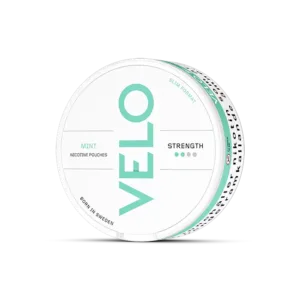 VELO MINT SLIM 6MG in Dubai: Unveiling a Refreshing Experience
VELO (LYFT) Mint 2Dots Specifications:
Brand: VELO Nicotine Pouches
Type: Snus
Format: Slim
Taste: Mint & Peppermint
Nicotine level: 6mg/g
Portions/can: 20pcs
Content: 14g
Strength: Medium
Origin: Sweden
Manufacturer: British American Tobacco Ltd
Where to Find VELO MINT in Dubai
Dubai's elite demand the finest, and VELO delivers. Navigate the city's vibrant landscape and discover the exclusive retailers stocking VELO MINT SLIM 6MG. Elevate your smoking experience by indulging in the epitome of sophistication, available at select locations across Dubai.
VELO in Dubai: FAQs
Is VELO (LYFT) MINT Legal in Dubai? | Absolutely, VELO (LYFT) MINT is legal in Dubai at Yenvape.net We provide all types of Velo Nicotine Pouches.
Where Can I Enjoy VELO MINT 2Dots in UAE? | Dubai has designated areas for vaping. Look for outdoor spaces or designated vaping zones to enjoy VELO MINT 2Dots responsibly.
Are There Different Flavors of VELO 6MG Available in Dubai? | While VELO MINT is a popular choice, you can also explore various flavors at Yen Vape Dubai. Check out the Velo Snus in Dubai.