Description
VELO FREEZE ULTRA SLIM 14MG
It has the flavor of intense mint and menthol, Born In Sweden!
Discover the exhilarating world of VELO FREEZE ULTRA SLIM 14MG, where a blast of coolness meets the satisfaction of 17mg nicotine strength. Dive into the details of this innovative nicotine pouch designed for a refreshing and invigorating experience. ensuring a comfortable fit under the lip for discreet and hassle-free usage.
Exploring VELO FREEZE ULTRA SLIM 14MG
Delve into the details of VELO ULTRA FREEZE's nicotine strength. Discover how the 14mg potency caters to experienced users seeking a satisfying nicotine hit along with a cooling sensation.
Brand: VELO Nicotine Pouches
Type: Snus
Format: Slim
Taste: Mint
Nicotine level: 14mg/g
Portions/can: 20pcs
Content: 14g
Strength: Extra -Strong
Origin: Sweden
Manufacturer: British American Tobacco Ltd
FAQs About VELO FREEZE ULTRA
How intense is the cooling effect of VELO FREEZE ULTRA 14MG?
Discover the level of cooling sensation users can expect from VELO ULTRA FREEZE  14MG and how it compares to other similar products.
Is the 14mg nicotine strength suitable for regular users?
Gain insights into the nicotine strength of VELO ULTRA FREEZE, its suitability for users seeking a higher potency.
Can VELO FREEZE ULTRA 14MG be used discreetly?
Learn about the design and convenience of VELO FREEZE ULTRA 14MG, offering a discreet and comfortable vaping experience.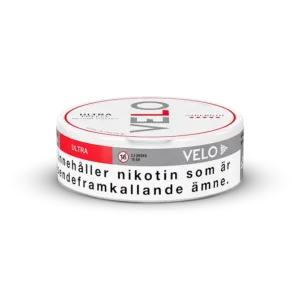 What flavors are available in VELO (LYFT) FREEZE?
Explore the range of flavors offered within VELO (LYFT) FREEZE, like Velo Freeze X-Strong, Velo Freeze Max and how they contribute to the overall vaping experience.
How does VELO FREEZE ULTRA 14MG differ from other VELO products?
Understand the specific attributes that distinguish VELO FREEZE ULTRA 17MG from other variants within the VELO lineup.