Description
VELO BERRY FROST MAX SLIM 14MG
Tobacco-free, all-white, and discreet nicopods from Velo with ultra-strong kicks and a frosty mint-berry flavor!
Buy Velo Berry Frost Max Slim at
Yen Vape
. It's An all-white snus from Velo and the manufacturer BAT designed to take your experience to the max! Its tobacco-free and slim nicotine pouches deliver ultra-strong nicotine kicks 
(14 mg/portion)
 together with a 
cool mint flavor topped with sweet and fruity tones of berries.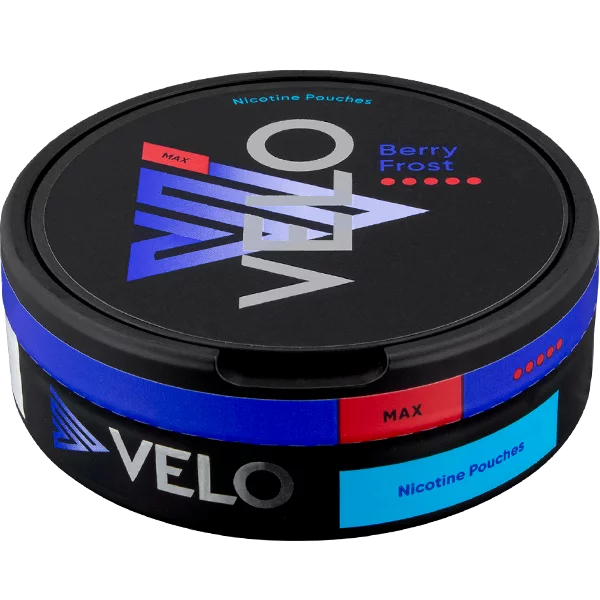 Velo Berry Frost Max Pro is a nicotine pouch that brings a touch of summer to your day, with its refreshing fusion of menthol and berry flavors. This 14mg can offers the perfect combination of cooling menthol and juicy raspberry, blueberry, and blackberry notes. The result is a nicotine pouch that is not only satisfying, but also provides a burst of flavor with every hit.
Best buy VELO BERRY FROST MAX SLIM 14MG in Dubai
The filling used by its 
nicopods
 consists of natural plant fibers. A high-quality filling that ensures that they won't stain and that they drip minimally, which in turn lengthens their stimulating release of both nicotine and flavor. You can now buy the powerful and refreshing 
Velo
 Berry Frost Max Slim
 Nicotine Pouches online
right here at 
yenvape.net
No alcohol, No animal derivatives!
Full of tropical flavors! When you open the can you are introduced to a lovely sweet aroma, the tobacco-free 
snus
 has a flavor combination of mandarin, passion fruit, and mango. An utterly unique mix that brings joy on a rainy day! The cheery on top is the hint of citrus along with the sweetness to give it a little extra touch. This flavor Made in Pakistan under the authority of British American Tobacco.
In addition to its delicious flavor, Velo Berry Frost is also a convenient option for those on the go. Unlike traditional cigarettes or vaping, nicotine pouches do not emit any smoke or vapor, making them an ideal choice for those who want to enjoy nicotine in a more discreet manner.
Velo snus Specifications:
Brand: VELO, LYFT
Product Type: Snus
Format: Slim
Flavour: Mint & Berry
Strength: Max Strong
Nicotine: 14mg
Pouches Per Can:20
Weight Per Pouch (Gram):0,75
Content Per Can (Gram):15
Furthermore, We are a retail Vape shop in International City, Dubai, UAE. We deliver all over the UAE. Gen Vape Dubai is a retail outlet specializing in selling electronic cigarette products. Our best-selling products are disposable vape, pod system, Juul, iqos, heets, Myle, e-liquid, yuoto disposable, pod salt disposable, Nexus, Elf Bar, vgod, vape coil, vape device, etc.