Description
VELO CARIBBEAN SPIRIT STRONG SLIM 10MG
VELO Caribbean Spirit with the taste of refreshing coconut and pineapple in a strong portion.
Explore the VELO CARIBBEAN SPIRIT STRONG SLIM 10MG at Yen Vape Dubai. Indulge in a summer escape to the Caribbean with VELO Caribbean Spirit Strong Slim. This innovative Nicotine Pouch lets you experience the magic of the tropics in every pouch. VELO boasts a range of nicotine pouches, each with its unique characteristics. The Caribbean Spirit Strong Slim 10mg stands out due to its robust nicotine content encapsulated in a sleek, slim pouch.
If you're a fan of nicotine pouches, you're likely well-acquainted with the renowned LYFT Carribean Spirit. However, times are changing, and VELO Carribean Spirit is the new kid on the block.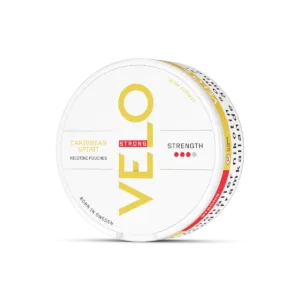 Specification of Velo Caribbean Spirit
Brand: Velo Nicotine Pouches
Type: Snus
Format: Slim
Taste: Coconut and pineapple
Nicotine level: 10mg/g
Portions/can: 20pcs
Content: 14g
Strength: Strong
Origin: Sweden
Manufacturer: British American Tobacco Ltd
Benefits of VELO Strong 10mg
This product excels in curbing nicotine cravings and alleviating withdrawal symptoms commonly associated with quitting smoking. Furthermore, its smoke-free nature eliminates concerns related to passive smoking and tar intake.